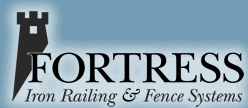 FortressAccents Aluminum Post Caps & LED Deck Lighting
Bringing Style to Day

and Night to Life

FortressAccents is a complete line of post caps and LED lighting accessories for decks, patios and other outdoor spaces. Raising the bar, FortressAccents' die-cast aluminum housings and DuPontŪ powder coat translate into optimal performance and durability. Its innovative design uses the same post cap for both lit and non-lit caps and is transformed with a simple optional waterproof drop-in LED light kit that is concealed from view during the day and emits a soft ambient glow at night. FortressAccents boasts a unique built-in thermal management system and also offers a power supply option with integrated timer, dimmer and photocell. It is the perfect complement to Fortress Railing Systems and also ideal for use with materials such as metal, wood, vinyl and composite.
NOTE: All Fortress LED Lights must be used with a DC Transformer.

---

Aluminum Post Caps w/Premium Powder Coated Finishes
Strong and durable die-cast aluminum post caps available in Gloss Black, Black Sand, White and Antique Bronze - all w/10 Year Warranty
Actual Size
Cost
2 1/8"
$12.59
3 1/8"
$14.87
3 9/16"
$18.25
4 1/8"
$21.71
4 1/2" & 5 1/8"
$25.02 includes 4 1/2" adapter
5 5/8" or 6 3/16"
$29.66 includes 5 5/8" adapter
Antique Bronze color is $1.15 higher in cost
Install Instruction 2x2 and 3x3

Accents Post Cap LED Light

Convert any Fortress Aluminum Cap into a Lighted Post cap with this 4-Pack of LED Light Strips. Illuiminate all 4 sides of the cap, or any side you like by attaching these light strips to the aluminum post cap (sold separately).

4-Pack

$59.39

---

Accents Glow Ring Post Cap Light
2" Cap Ring
$55.54
3" Cap Ring
$59.39
3 1/2" Cap Ring
$61.28
4" Cap Ring
$64.11
5" Cap Ring
$68.83
6" Cap Ring
$73.63
Convert any Fortress Aluminum Cap into a Lighted Post cap with this LED Glow Ring. Illuminate all 4 sides of the cap by attaching this light ring to the the aluminum post cap (sold separately).

---

Accents LED Vertical Post Light
Black, Black Sand or White
$86.06
Antique Bronze
$92.83
3 1/2" x 1 3/4" x 7/8"

2 Light Pack

Accents LED Universal Light
Black, Black Sand or White
$209.650
Antique Bronze
$223.57
6 Light Pack
2 1/2" x 5/8" x 3/8"
Installation Instructions

---

Accents 30 Watt Transformer
$111.08
Transformer only

Accents Premium LED Transformer Kit
40 Watt - $235.53
100 Watt - $324.26
Includes timer/photo cell, dimmer & remote.

18-2 Low Voltage LED Wire
100' Roll

$53.00

---

---