FOR USE WITH TREX® ELEVATIONS™ AND OTHER STEEL AND ALUMINUM DECK FRAMING SYSTEMS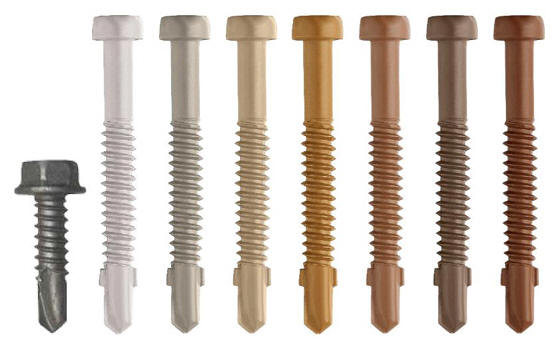 Deckfast® Metal screws are designed to attach composite, PVC and hardwood decking to steel and aluminum, including Trex Elevations®steel deck framing. It is the first line of deck screws designed specifically for this application.
Deckfast Metal screws are made of Grade 410 stainless steel and feature extra deep star drive recesses, undercut heads, drill points, and a color matched epoxy-based polymer resin coating over zinc plate.
NEW 12 x 2-3/8" version
Deckfast Metal is now available in a larger size for two-inch decking: 12 x 2-3/8". The original 1-5/8" long Deckfast Metal screw is the leading fastener for attaching one-inch decking materials to metal framing systems. The new 2-3/8" Deckfast Metal screw is the only product on the market designed for use with two-inch decking materials in this type of application. Both versions are Trex®approved.