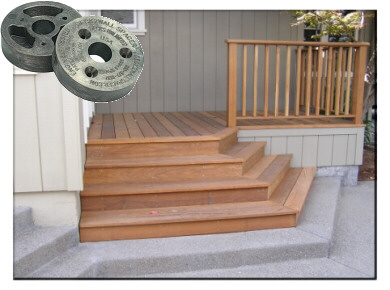 Deck2Wall Spacers™ are designed to easily and efficiently provide airspace between buildings and deck ledgers, stair stringers, shade structures, railing posts, fence posts, etc. . .

Deck2Wall Spacers™ are easy to install. Simply fasten the spacer to the ledger with properly sized screws or nails through the attachment holes prior to bolting the ledger to the structure

Use Deck2Wall Spacers™ for a fast, professional ledger installation

Size: 2 1/2" diameter, 5/8" thick or 2" diameter, 1/2" thick - Injection molded, fiberglass reinforced polypropylene.